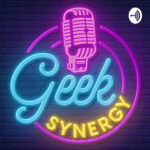 In deze aflevering van Geek Synergy praten we over: Matrix Unreal Demo, My Name review, Waarom echte gunsop filmset, Sex op TV, Denny Camping tories, movie tip of the week en meer.
Heb je vragen dat tijdens de podcast beantwoord moet worden, laat het ons weten in onze Discord en wij gaan het beantwoorden!
Denny, Joëlla en Victor zijn 3 vrienden die je meenemen in de wereld van geeks waarin we gevarieerde topics discussiëren van games tot het dagelijkse leven. Join ons in deze oorverdovende avontuurlijke podcast elke vrijdag om 15uur.
Podcast producer: Yuri
——————————————-
►SUPPORT ONS
https://anchor.fm/geeksynergy/support
►Podcast Onderwerpen
https://tinyurl.com/geeksynergypodcast46
► Podcast Tips!
► Check onze YouTube kanaal:
https://tinyurl.com/geeksynergyYT
► Luister mee op Spotify:
► Of join onze Discord channel:
►Voor de leukste geek things to do check:
—
Support this podcast: https://podcasters.spotify.com/pod/show/geeksynergy/support